Let's Talk it Over
Call Us at (949) 565-3530
Our Customers Love Us
When we first contacted Shuchipan at Techheights, our main server was failing. Shuchipan scheduled an appointment the following day and thoroughly analyzed our system to determine our issues. Despite efforts to repair the system, Shuchipan quickly advised us that it would be more cost-effective to replace the hardware. In the following days, TechHeights sourced an affordable new machine, installed the O/S, reconfigured the system, restored our backup, and got us back on our feet with zero data-loss The system has been working perfectly ever since, and he saved us thousands of dollar of potentially unsuccessful repair efforts on the old machine and additional down time. Shuchipan and his team is extremely easy to work with – they have deep IT knowledge, understands issues quickly, is an objective and logical problem solver, and generously shares his knowledge. I would recommend TechHeights highly to anyone.
Director of Finance & Operations
Our Cloud Methodology
our migration service includes a benchmark migration to prove our the timing, migration process and network and storage connectivity. it also includes a pilot migration on a predefined application set that validates the migration.
Cloud Migration Phases and Activities
1 Planning
Validation of workload inventory
Validation of source and destination infrastructure readiness
Determination of migration strategy
2 Scheduling
Determination of migration move groups
Resource readiness
Migration event hour by hour plans
3 Pre-Migration
Migration infrastructure and tool readness
Benchmark Migration
Validation network and storage connectivity
4 Migration Execution
Pilot Migration
Production Migration
Server Validation
User Acceptance testing
5 Production Hand-over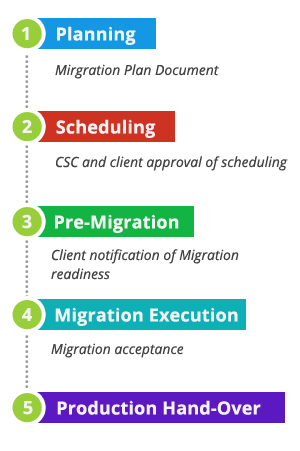 We are experienced in designing and implementing Cloud Infrastructure, Cloud Email Migration, Cloud Servers, Cloud Disaster Recovery and Business Continuity.
OUR

PARTNERS