Cloud Services That We Offer
Let's Talk it Over
Call Us at (949) 565-3530
Our Customers Love Us
I cannot be more thankful that I was introduced to Techheights. Between the server setup and office configurations that were needed to be done I was completely overwhelmed. I cannot stress enough how helpful, professional and knowledgeable these guys are. They assisted me in the office as well as from offsite even at odd and weekend hours. They are and always will remain on my speed dial! Thanks again!!
Our Cloud Methodology
our migration service includes a benchmark migration to prove our the timing, migration process and network and storage connectivity. it also includes a pilot migration on a predefined application set that validates the migration.
Cloud Migration Phases and Activities
1 Planning
Validation of workload inventory
Validation of source and destination infrastructure readiness
Determination of migration strategy
2 Scheduling
Determination of migration move groups
Resource readiness
Migration event hour by hour plans
3 Pre-Migration
Migration infrastructure and tool readness
Benchmark Migration
Validation network and storage connectivity
4 Migration Execution
Pilot Migration
Production Migration
Server Validation
User Acceptance testing
5 Production Hand-over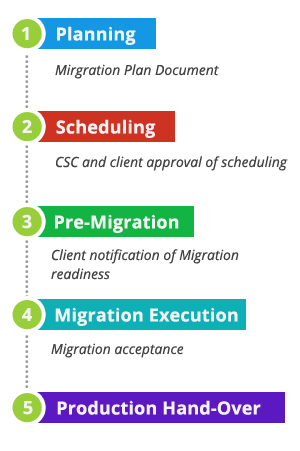 We are experienced in designing and implementing Cloud Infrastructure, Cloud Email Migration, Cloud Servers, Cloud Disaster Recovery and Business Continuity.
OUR

PARTNERS