Cloud Services That We Offer
Let's Talk it Over
Call Us at (949) 565-3530
Our Customers Love Us
We needed a Cisco engineer to get our router configured so that our new office would have VoIP service and internet. I came across TechHeights in a pinch and Shuchipan answered my distress call. They came to our office the same day, we set up remote access to the router, and their engineers found the problem and fixed it the same day. Communication was super friendly and fast, and Shuchipan made sure our router was working before the day was out. Super company that I highly recommend for IT services.
Our Cloud Methodology
our migration service includes a benchmark migration to prove our the timing, migration process and network and storage connectivity. it also includes a pilot migration on a predefined application set that validates the migration.
Cloud Migration Phases and Activities
1 Planning
Validation of workload inventory
Validation of source and destination infrastructure readiness
Determination of migration strategy
2 Scheduling
Determination of migration move groups
Resource readiness
Migration event hour by hour plans
3 Pre-Migration
Migration infrastructure and tool readness
Benchmark Migration
Validation network and storage connectivity
4 Migration Execution
Pilot Migration
Production Migration
Server Validation
User Acceptance testing
5 Production Hand-over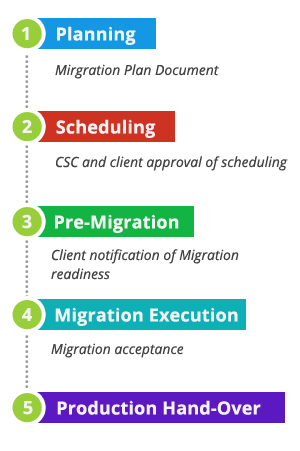 We are experienced in designing and implementing Cloud Infrastructure, Cloud Email Migration, Cloud Servers, Cloud Disaster Recovery and Business Continuity.
OUR

PARTNERS